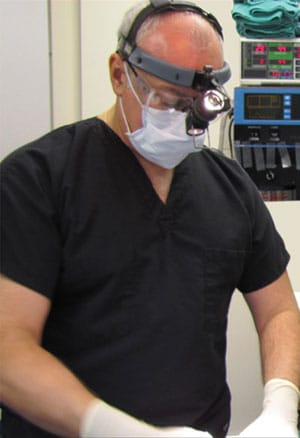 Dr. Vigna was born and raised in Toronto where he attended high school at Oakwood Collegiate Institute and graduated with Honors. He was both an Ontario scholar and a Toronto Scholar. Dr. Vigna enjoyed playing rugby and was fortunate to be a part of 4 city championships while in high school. After high school Dr. Vigna attended the University of Toronto where he was affiliated with Trinity College at the St. George Campus.
He was accepted into Dental School in 1986 and graduated with Honors from University of Toronto Faculty of Dentistry. Again during his university years he was a part of 3 Rugby championships with the Faculty of Dentistry. After completing dental school Dr. Vigna completed a one year dental internship at the Toronto General Hospital from 1990-1991. At that time he treated medically compromised patients at the dental clinic and was exposed to the oral surgery program at the University. This created interest in oral surgery and subsequently encouraged him to apply to the oral surgery programs throughout the United States. He was accepted at Sinai Hospital of Detroit, University of Detroit.
For four years from 1991- 1995 he completed the Oral and Maxillofacial Surgery program. The training was very extensive and included Facial reconstruction and Craniofacial work. Facial trauma was a cornerstone portion of the training. In 1995 following oral surgery residency Dr. Vigna took his fellowship exams and obtained his Royal College of Dental Surgery fellowship with the Canadian Board. Dr. Vigna has been practicing oral maxillofacial surgery in Ontario since 1995. He has had the pleasure of servicing the Niagara Region since 1996 where he has opened his Oral Surgery Clinic. Dr. Vigna is on staff at the St. Catharines General Hospital where he is the chief of Oral Maxillofacial Surgery. Dr. Vigna is also an Assistant Clinical Professor of Surgery with McMaster University and teaches Ear, Nose and Throat residents in both his clinic and hospital. Dr. Vigna is a member of multiple associations including both the Canadian and American Associations of Oral and Maxillofacial Surgeons. He is also a member of the prestigious Chalmers J. Lyons Academy of Oral and Maxillofacial Surgeons. Dr. Vigna resides in St. Catharines with his wife and two children.