Click to Book An Appointment Today!
The preferred method of tooth replacement is the dental implant. Dental implants are a substitute for tooth roots, and form a stable foundation for permanent replacement of teeth. They also act as a support anchor for dentures.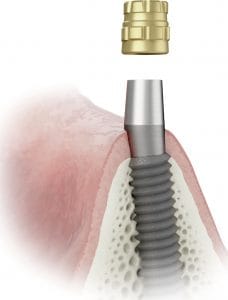 Dr. Vigna has introduced the Conus concept to the Niagara area for denture implant rehabilitation. This Fixed-Removable denture utilizes CAD/CAM fabricated parallel cones that are inserted over the implants. The denture has metal sleeves that firmly retain the denture to the implants. The Conus concept is more retentive than any other removable treatment being offered elsewhere. Conus concept dentures do not need maintenance, and allows the denture to be smaller in size. Also, the denture is supported by the implants, which means the denture acrylic does not sit on the gums/bone).
Dental implants can help preserve the bone by providing stimulation that was previously provided by the natural tooth root system. This helps to maintain the integrity of your facial structure. Dental implants are the closest possible replacement for natural teeth, and the best way to restore your natural smile. The cost of these implants has become affordable.
Implant retained dentures are very stable.  Implants are a proven restoration option with a long, clinical history and an excellent success rate.
Dental implants can be used to replace a single lost tooth or many missing teeth. Many patients who have chosen implant supported teeth report they are happy and comfortable for the first time since the loss of their natural teeth.
Benefits of dental implants:
Improved oral health, ability to eat, appearance and self-esteem.
Increased denture comfort.
Denture stability
Help prevent bone loss
Your mouth is restored to a natural state which allows superior long-term esthetics, enhancing the beauty of your natural smile and quality of life.